David Rancilio - Associate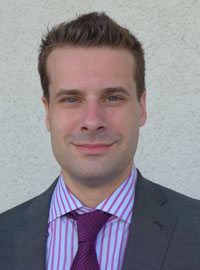 David Rancilio
drancilio@mrhfmlaw.com
David Rancilio is an associate at Maune Raichle Hartley French & Mudd, LLC's Oakland office where his practice is focused on representing victims of mesothelioma.
Experience
David graduated from Pepperdine University School of Law in 2011 and was a member of Pepperdine's Moot Court Team, making the finals of the school's Dalsimer Moot Court Competition in only his second year of law school.
Prior to becoming an Associate at Maune Raichle Hartley French & Mudd, David worked in asbestos litigation for two years in Los Angeles representing a wide array of clients.
David is a member of the Los Angeles County Bar Association and is admitted to practice in the State of California and the U.S. District Court, Central District of California.
Education
Pepperdine University School of Law
Practice Area
Mesothelioma