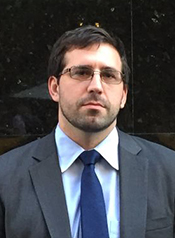 William Margrabe
wmargrabe@mrhfmlaw.com
Will is an associate in the New York office of Maune Raichle Hartley French & Mudd. His practice is dedicated exclusively to representing victims of mesothelioma and their family members.
Experience
Before joining MRHFM, Will was an associate at a New York plaintiffs' firm, where he represented clients in securities fraud class actions and shareholder derivative actions, as well as products liability and insurance coverage suits. Before that, he worked at the Clean Air Council, in Philadelphia, where he pursued litigation to ensure the fracking industry's compliance with the Clean Air Act.
Education
Princeton University, A.B. in Economics
University of Michigan Law School, J.D. - Cum Laude
Practice Area
Mesothelioma
Bar Admissions
New York
New Jersey
Pennsylvania
Federal District Courts: Southern District of New York, Eastern District of New York, and District of New Jersey