MRHFM's Jim Caruso was recently featured on KSDK News Channel 5 St. Louis about his participation in Pedal the Cause.
MRHFM's Pedal the Cause team rides in support of cancer research and a very special 5-Year-Old girl named Deja in Pedal's Ride for a Child Program.
Additionally the firm will donate $250 to for each employee who rides or volunteers in Pedal the Cause. The team is up to 10 members thus far.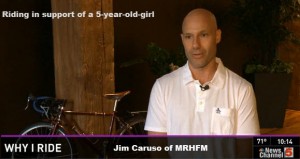 Pedal the Cause will be held October 5-6 in St. Louis. Read more about MRHFM's involvement in Pedal the cause.