How Does Our Mesothelioma Patient Guide Stand Out from the Rest?
Our mesothelioma patient guide is not simply a repackaged version of a book distributed by many others. It's an original guide only offered by MesotheliomaBook.com and our sponsor Maune Raichle Hartley French & Mudd, LLC. We provide much greater detail about the treatment process than any other mesothelioma book out there. For example:
What you can expect from each of the various testing and treatment procedures
Best practices for obtaining highly skilled, specialized care
Suggestions from doctors for alleviating and managing chemotherapy and radiation side effects
Types of mesothelioma surgeries, their risks, side effects and survival rates
Centers that offer new and innovative treatments
Causes of mesothelioma pain and how pain can be controlled
Things to discuss with and questions to ask your mesothelioma doctor
How to ensure that your medical costs will be covered
Tips for nutritious food choices with seasonal recipes
And more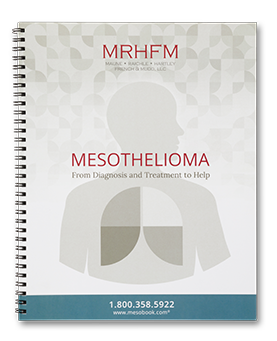 Let us share with you what all patients and their loved ones should know about mesothelioma.