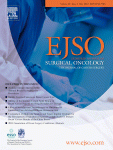 European Journal of Surgical Oncology (EJSO)  Volume 39 Issue 10
Laparoscopy (lap·a·ros·co·py) is a type of surgery in which small incisions are made in the abdominal wall through which a laparoscope and other instruments can be placed to permit structures within the abdomen and pelvis to be seen. A variety of probes or other instruments can also be pushed through these small incisions in the skin (Webster's New World Medical Dictionary). This minimally invasive surgery (MIS) allows doctors to diagnose conditions and perform a number surgical procedures without the need for a large surgical incision. The result is less pain and scarring, less blood loss, fewer infections, and faster recovery times when compared to traditional surgeries.
Laparoscopy is often used to treat conditions such as endometriosis, ovarian masses, digestive diseases, an inflamed appendix, and more. It is also used in cancer staging and as a pallative cancer treatment to help minimize symptoms of the disease. Now, a study conducted by researchers at Hospices Civils de Lyon in France suggests that patients with peritoneal cancers such as mesothelioma can be added to the list.
The study included eight patients that had low-grade cancers with minimal spread on the peritoneum. Some patients had multi-cystic mesothelioma, which causes small cyst-like peritoneal tumors, while others had pseudomyxoma peritonei.
The patients treated by a laparoscopic approach were compared to eight patients treated by laparotomy (traditional full-size incision). According to the study, which was published by the European Journal of Surgical Oncology (EJSO) and ahead of print on the National Center for Biotechnology Information (NCBI), U.S. National Library of Medicine (NLM) website:
"All patients underwent complete cytoreductive surgery (CRS) with heated intraperitoneal chemotherapy (HIPEC), and no conversion to laparotomy was needed. The median surgical length was 210 min (150-300) vs. 240 (210-360), with a median hospital stay of 12 days (9-18) vs. 19 (13-33). One patient had a postoperative complication (intraperitoneal haematoma treated by radiological drainage) vs. four patients in the laparotomy group."
In simple terms, the laparoscopy patients experienced fewer complications and spent an average of a week less in the hospital than patients who had traditional surgery.
Researchers concluded that "Laparoscopic CRS combined with HIPEC is feasible and safe for curative treatment of strictly selected patients with peritoneal surface malignancy and might reduce postoperative complications and length of hospital stay." This is one of many positive steps in the right direction towards developing more minimally invasive, yet effective treatment options for mesothelioma.
If you have been diagnosed with mesothelioma, talk to your doctor about minimally invasive procedures such as laparoscopic surgery. Your doctor will determine if you are a good candidate and discuss the procedure and benefits in detail with you. In the meantime, you can learn more about mesothelioma by requesting a free copy of 100 Questions & Answers About Mesothelioma.
To learn about your legal rights as a mesothelioma victim, contact an attorney at MRHFM today. Combined, the attorneys at MRHFM have 100 years of experience exclusively dealing with mesothelioma victims and their families. You can contact an MRHFM attorney by phone at 866-373-5000, email, or live chat.
MRHFM is the largest firm devoted exclusively to helping mesothelioma victims and their families, so we're always here to help.
Sources
100 Questions & Answers About Mesothelioma
Print. Harvey I. Pass, MD
European Journal of Surgical Oncology (EJSO)
EJSO.com
National Center for Biotechnology Information (NCBI), U.S. National Library of Medicine (NLM)
Ncbi.nlm.nih.gov
The Merck Manual Home Health Handbook
Print. Robert S. Porter, MD
Webster's New World Medical Dictionary, 3rd Edition
Print. MedicineNet & Wiley Publishing