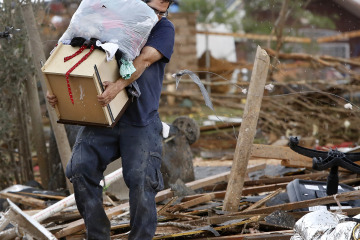 Picture from the Oklahoman
Photographer Jim Beckel/AP
While hundreds of volunteers, emergency crews, businesses and residents work to clean up what the EF5 tornado left behind in Moore, Oklahoma they need to be weary of the possible health risks that may lie in the debris. Cleaning up after a major disaster is much more than cleaning until the green grass shows again. The danger lies past the physical aspects of clean up. Chemical hazards that are invisible to the naked eye such as natural gas explosions, asbestos exposure, carbon monoxide poisons, extreme heat and emotional trauma could cause problems not just in the immediate future but for years down the road.
Many are comparing the Moore, Oklahoma tornado to the tornado that hit Joplin, Missouri in 2011. It was reported that 2,600 tons of asbestos was collected and disposed in Joplin according to Ozarks First. Neither site had refineries or chemical plants that were included in the disaster, which helps with the clean up's danger levels.
The Oklahoma Department of Environmental Quality gives information about the safety precautions people should be taking during the clean-up effort.