What is Mesothelioma?
Mesothelioma is a cancer that affects the thin membrane protecting several of the body's most important organs, including the lungs, abdomen and heart. Each year, there are roughly 3,000 new cases of mesothelioma in the United States. At this time, asbestos exposure is the only known cause of mesothelioma. Many industries, such as construction, manufacturing, and the military, have used asbestos in a variety of materials. It may take decades from the time of asbestos exposure for mesothelioma to develop.
We are happy to assist you in finding the answers to your questions about mesothelioma. If you or a loved are suffering from mesothelioma, please request our free mesothelioma information packet by simply completing the online form.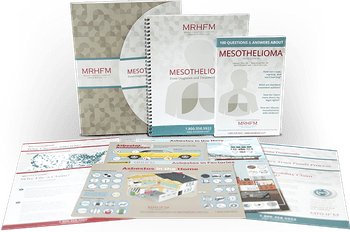 Real Answers For Those With Mesothelioma
Join the thousands of other families who have improved their quality of life by reading the book.
Get the Latest Treatment Options
Connect with Top Doctors and Specialists
Learn About Financial and Legal Assistance
See the Latest Information for Veterans
*Limited Supply Remaining