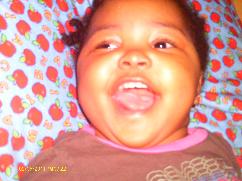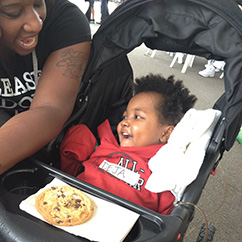 MRHFM will sponsor five year old,
Deja Davis (above), in Pedal the Cause 2013
St. Louis, MO (May 2013) – For the second year in a row Maune Raichle Hartley French & Mudd, LCC will sponsor a company team in Pedal the Cause St. Louis. The mesothelioma law firm has agreed to donate $250 for each employee who rides or volunteers in Pedal the Cause. The event raises funds for The Siteman Cancer Center in St. Louis and St. Louis Children's Hospital. Julia Lund is the captain of the MRHFM team and litigation paralegal at the firm.
"Pedal the Cause is a great event that allows us to support cancer research, the community and our employees," said Neil Maune, partner at MRHFM. "We encourage our employees to go out and give back to the community in which they live and work. Many of them choose events like Pedal the Cause that support cancer research because we work with individuals and families battling mesothelioma cancer on a daily basis and because cancer personally touches so many of us."
MRHFM will also participate in the Ride for a Child Program and will ride in support of Deja Davis. Deja is a 5 year old little girl who has been through many battles in her life including a brain tumor, a stroke and sickle cell Hemoglobin SS disease. MRHFM sponsored Deja in last year's Pedal the Cause. The team will get the chance to catch up with Deja and her progress at the Pedal the Cause picnic in September.
"We are really looking forward to participating in Pedal the Cause again this year representing MRHFM," said Julia Lund, team captain and litigation paralegal at MRHFM. "And I am thankful that we get to sponsor Deja for a second year. She is such as sweet five year old that has been through so much already; we want her to know that we are behind her as she battles cancer."
100 percent of the donations from Pedal the Cause go to cancer research and all of the funds stay in St. Louis. There are several events leading up to the main ride weekend including training rides, meetings and happy hour. The big ride weekend is October 5-6, 2013 and bike races range from 15 to 100 miles distances. For more information about Pedal the Cause St. Louis visit http://stlouis.pedalthecause.org/.
MRHFM is a leading mesothelioma law firm that exclusively handles mesothelioma cases across the nation. To track the progress of the MRHFM Pedal the Cause team visit http://stlouis.pedalthecause.org/team_profile.jsp?MemberID=16849.
About Maune Raichle Hartley French & Mudd, LLC
Maune Raichle Hartley French & Mudd, LLC is a mesothelioma law firm based in St. Louis, MO. With offices across the country, their size and exclusive focus on mesothelioma cases allows them to represent clients through the process as quickly as possible and maximize their clients' recovery. The attorneys at MRHFM have represented thousands of victims exposed to asbestos. The firm has 24 attorneys across the country, 13 investigators, 4 client service managers, and additional support staff including paralegals and legal assistants. For more information about Maune Raichle Hartley French & Mudd, LLC, visit http://www.mesotheliomabook.com.
###