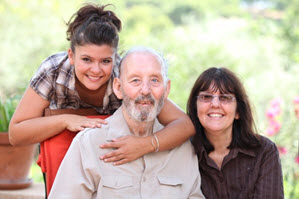 Secondary exposure of asbestos as the cause of the
'third wave' of mesothelioma diagnoses. stock image.
Ten years ago most mesothelioma victims were in their 60s, 70s and 80s. These were the miners and first of those that brought on mesothelioma claims against businesses that knew about the dangers of asbestos. One of the most well-known cases in the field is that of Bernie Banton, an Australian worker' rights activist that fought for compensation from James Hardie after he contracted mesothelioma from working for that company.
This article points out the second wave as those who worked directly with asbestos, in factories, unloading it at the docks, or as builders, plumbers, electricians and carpenters. And now the 'third wave' as the bystanders that includes home renovators, women who washed their husband's work clothes or children that were around during projects involving asbestos.
In this third wave, testimony about ones' past becomes very important especially if you cannot identify asbestos exposure to a direct job or incident. Many DIY home renovators fall into this third wave as children were many times involved and present during these small bathroom or shed remodels. Anything built before 1987 has a very strong chance of containing asbestos. Even in these cases the manufacturers or distributors of the products used in the construction can be sued and justice served.
This article points out that there are less mesothelioma cases that are occupational related and instead are second hand exposure related where people may be uncertain how the asbestos exposure happened. If some family members with the same exposure do not contract the disease, others can still suffer an asbestos-related illness. This may be why studies have shown that 10 percent of cases go undiagnosed.
Excerpt from the article in the Mercury:
Astonishingly, despite the overwhelming evidence for more than a century of the dangers of asbestos and the rising death rate from bystander exposure, asbestos is still mined by a handful of countries and widely used for building products in many developing nations, including Vietnam and India. In May, a group of seven countries led by Russia (the world's biggest asbestos producer) blocked a move by the UN's Rotterdam Convention to list chrysotile, or white asbestos, as a hazardous substance.
The mesothelioma victim in this article, Jane Krsevan's goal is to warn people to be careful and to not believe that a diagnosis like mesothelioma could never happen to them.