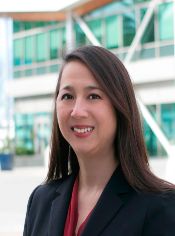 Marissa Uchimura
muchimura@mrhfmlaw.com
Marissa is an associate with the California office of Maune Raichle Hartley French & Mudd and has exclusively represented individuals diagnosed with mesothelioma since joining the firm in 2012.
Experience
Marissa is passionate about using the law in innovative ways to obtain justice for clients of Maune Raichle Hartley French & Mudd. She devotes a substantial portion of her practice to the California office's law and motion department. She has written briefs on complex legal issues, and has prevailed on motions in courts throughout the State of California. The favorable results Marissa has obtained through her motion practice have resulted in tangible benefits for her clients, including a $2.5 million dollar settlement for a retired chemist from a manufacturer of laboratory equipment.
Marissa earned her Juris Doctorate from University of California, Berkeley, School of Law, and graduatedsumma cum laude with a degree in English from the University of California, Los Angeles. She is a lifelong California resident and currently lives in Oakland.
Education
University of California, Berkeley, School of Law
Practice Area
Mesothelioma